Is oatmeal bad for you?
Plus: The best recipes to start the week!
"Consistency is everything."
Monday. The U.S. economy grew by another 4.9% last quarter. (For context, the economy grew 2.1% in Q2.) What does that mean exactly? I guess it means that despite interest rates being at a 22-year peak, Americans are still willing to spend plenty of money on Taylor Swift tickets and Pumpkin Spice Lattes. But what do we know? Let's get back to stuff that we actually know a thing or two about. Is oatmeal really toxic, or is it a healthy source of fiber? Let's dive in.
Together with Inside Hotels
Hotels We Love: The Manhattan at Times Square
For a classic stay in New York City, look no further than The Manhattan at Times Square, conveniently located just steps from some of the city's major attractions.
Here, you won't have to choose between the bright lights of Broadway and visiting the LEGO flagship store—everything is so close by! Each well-sized room is outfitted with comfortable bedding and work desks, so you can get as much done as you need to, and double-pane windows ensure you're able to avoid the noise of the city. Plus, grab & go breakfast is included in your stay, so you'll never start your day looking for food.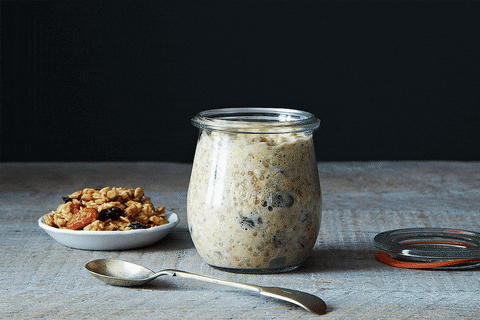 Is Oatmeal Really The Problem?
Lately, there's been a lot of fuss about oatmeal. Scroll around on social media, and you'll have no trouble finding a health and fitness influencer saying it's terrible for you, calling it "peasant food" and even toxic. Meanwhile, you can also find some people claiming oatmeal is a good source of fiber. So, what's the deal? Will oatmeal send you to the hospital or help you live to a hundred?
The truth is, like with so many other things, somewhere in the middle. Oatmeal is not the enemy, and it's not your savior, either.
You see, oatmeal has become just another pawn in the monthly cycle of nutrition debates that confuse us more than they help. One month, it's oatmeal; next month, it'll be something else. Carnivore, plant-based, keto, carnivore, counting macros, honey, fruit—the list goes on. There are endless examples of hot-topic nutrition debates you can find on social media. It can be exhausting to sort through all the noise and make heads or tails of what is true and best for your health.
But stressing over these small choices is not how you improve your health. In fact, worrying about every single decision you make is one of the least healthy things you can do for yourself.
Instead of getting bogged down by all the noise, let's focus on what really matters: building strong habits and routines. Say you want to improve your diet. Instead of asking, "Is oatmeal bad?" ask, "What foods will help me reach my goals?" If you need fiber, oatmeal is an excellent choice. But if you don't like oatmeal, that's okay, too.
Just pick something else! The point is, don't let fear or negativity guide your choices. At the end of the day, even the most processed foods aren't going to kill you in moderation. I promise you—you can eat a Twinkie and survive to tell the tale. "Bad foods" here and there won't make you sick, but bad habits over time absolutely will.
Think about the life you want to lead. Do you want to be someone who worries about every piece of food that goes into your mouth? Probably not. You likely want a balanced life where you understand the basics of what's healthy and can make good choices most of the time without much drama. And that's where building healthy habits comes in.
Creating solid habits requires a good foundation, just like building a house. Before you even think about the specifics—like whether or not to eat oatmeal—you've got to make sure your foundation is strong. Ask yourself, "What do I want my life to look like?" Do you want to feel energized, have a great mood, prevent chronic disease, and build a body that is strong and capable enough to do all the things you want to do deep into old age?
Once you have a good idea of what that looks like, you can start laying the bricks: sleep well, move your body, connect with people, be kind to yourself, and nourish your body with good food.
I get it; there are a lot of options out there. You could go low-carb or high-carb, work out for long hours, or stick to short, intense routines. You could be a meat-eater or a vegetarian. But the thing is, almost all those things can work. What often makes a plan fail is not that it's inherently bad but that it doesn't fit into your life, which makes it hard for you to stay consistent. And that's why you're the most crucial part of any plan.
The key takeaway? The next time someone tries to scare you into believing oatmeal is the bad guy, or any other food for that matter, remember this: the key to improving your health isn't in obsessing over the small stuff. It's in building lasting habits that align with the life you want to live. And once you do that, everything else will fall into place.
Tonic Shots
1. It's Soup Season, Baby!
This butternut squash soup is the perfect recipe for a warm fall meal!
2. Indulge, Enjoy
This peanut butter waffle sandwich is the perfect option to indulge with before a workout every now and then.
3. Mashed Potatoes, But Healthier
The perfect side dish to prep for the week—a healthier version of mashed potatoes!
Other Newsletters We Love ❤️
Daily Yogi

Timeless wisdom to help you expand your perspective on life. Join 2,000+ humans who start their day with the oldest philosophy in the world.
The Stoa Letter

Become more Stoic. Build resilience and virtue with ancient philosophy. Join 10,000+ walking the Stoic path.
How was today's newsletter?