Can breakfast cereal be healthy?
Plus: Recipes to kick start the day that aren't cereal.
"Change is the heartbeat of growth." - Scottie Waves
Wednesday. Alright — everyone can relax. The U.S. military finally located the missing $100 million F-35 fighter jet, which had seemingly vanished after an in-flight mishap in South Carolina. Seriously though, how do you lose a $100 million plan in the first place? Apparently, the plane was hard to find because it stayed on auto-pilot even after the pilot had to eject from the cockpit. I am the furthest thing from an aerospace engineer, but maybe the autopilot should turn off once the pilot ejects. Just a suggestion. Here is another suggestion: we might all want to rethink our stance on breakfast cereals. Let's dive in.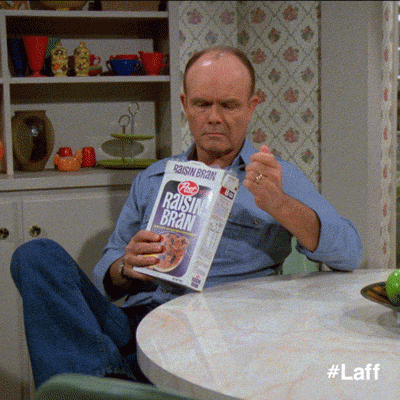 Is It Okay To Have Breakfast Cereal?
That is how much we love cereal. I mean, what is there not to love? Cereal is a crunchy carb, usually covered in sugar. It's carbs on carbs. But behind those colorful boxes and fruity flavors lies a key question: Can cereal be healthy?
It's no secret that cereals like Cinnamon Toast Crunch aren't exactly health foods. They are closer to dessert-like treats. But with grains having such a rich history and contribution to human growth, there's got to be some merit to cereals, right?
This brings us to this question: is there a benchmark for a decent breakfast cereal that can pass as healthy-ish? And do any of these "healthy" cereals pass the taste test, or does "healthy" mean it inevitably tastes like soggy cardboard?
Growing up, you were either the kid whose pantry included all the colorful treats a child could ever wish for or you were the kid whose parents classified sugar as a Schedule II narcotic. One kid would have Froot Loops, Reese's Puffs, Cap'n Crunch, or Lucky Charms, and the other kid would have Shredded Wheat (without the frosting) or worse — Raisin Bran.
Fast forward to the anti-sugar wave of 2013, and sugary cereals are no longer as cool as before. Health became a priority, sugar emerged as the culprit behind chronic disease, and with it came a shift to cereals that look more like rabbit food than tasty treats.
From there, the health-conscious cereal movement gained momentum when Kellogg's acquired Kashi. Today, the market is full of cereals touting benefits from keto to high-protein and even cereals that are supposed to help you sleep.
But here's the thing: Not everything tagged 'unhealthy' from the cereal aisle is necessarily so. Contrary to popular belief, breakfast cereal only makes a minor contribution to overall added sugar consumption. If you were to indulge in a sweet treat, there are far worse contenders than cereal.
To understand more about the sugar content in cereals, it is important that we read the 'added sugars' section on nutrition labels, a requirement introduced by the FDA in 2020. This allows consumers to differentiate between naturally occurring sugars (like those in fruits) and those added during food processing.
When you compare these numbers, the sugar content in many beloved cereals isn't as alarming as one might think. For instance, while a cup of Lucky Charms contains 12 grams of added sugar, a small Dunkin' Donuts frozen coffee boasts a staggering 89 grams of the same. This isn't to say that cereals are the epitome of health (they're not), but when judged against some other everyday foods and beverages, they don't fare too poorly.
Let's just say that if you think breakfast cereals are the problem but are still having a pumpkin spice latte five days a week, you might just be doing it all wrong.
We have to be conscious of our added sugar intake across various foods. Understanding how much and in what form we consume sugar is important. The American Heart Association has guidelines on sugar consumption based on gender and age. However, individual lifestyle, physical activity, and health conditions can influence these recommendations.
The key takeaway? If breakfast cereals are your thing, exports suggest picking ones with less than 10 grams of added sugar per serving. Honey Bunches of Oats, Life, Cheerios, and Kashi Honey Toasted are some options that fit this criterion. And if having sweetened cereals is a non-negotiable for you or your kids, you could try mixing cereals, adding no-calorie sweeteners, or adding fresh fruits to start cutting back on the sugar you have for breakfast.
And before anyone feels inclined to reply and explain why ALL cereals are terrible for your health, let me say this one last time. Breakfast cereals aren't necessarily a cornerstone breakfast option in an optimal diet. That said, it is something roughly 280 million Americans are consuming. Is it realistic to think that 280 million Americans will completely replace breakfast cereals with a couple of pasture-raised eggs cooked in grass-fed, home-churned butter and sprouted oats with organic blueberries? Probably not, so let's start somewhere.
Celebrate Life's Adventures with a Custom Map Poster from Mixplaces!
Mixplaces lets you create premium quality prints to remember your most treasured moments and places.
With the custom map poster, you can create an accurate street map of your favorite neighborhood, city, or landmark. What better way to honor a special memory than the place where it happened? Start designing today and give a forever, thoughtful gift to your home!
Tonic Shots
1. We Need Your Smile!
In honor of World Smile Day®, we're teaming up with Smile Train, the world's largest cleft-focused organization, to make smile history! Smile Train's goal? To create the world's largest online photo album of smiling mouths. Can you help them reach 20,000 beautiful smiles submitted?
All we need is a photo of your smile — and by sharing, you could win a $2,500 Amex gift card! Something tells us you're grinning already…
2. Breakfast In A Pinch
Sometimes a quick smoothie is all you have time for in the morning! That is okay. Add some protein powder and enjoy
3. Great Breakfast OR Lunch!
Greek flavors in an omelette, shaped as a wrap. This is the perfect way to start your day. It can be a great lunch option as well! Enjoy!
Keep Reading
Love The Daily Tonic? Here's another newsletter you may love too:
Smile by InspireMore

Smile makes it easy to start your day with positivity, delivering the top uplifting news and stories in a fun, 5-minute daily email. Join 280K readers for free today!
How was today's newsletter?